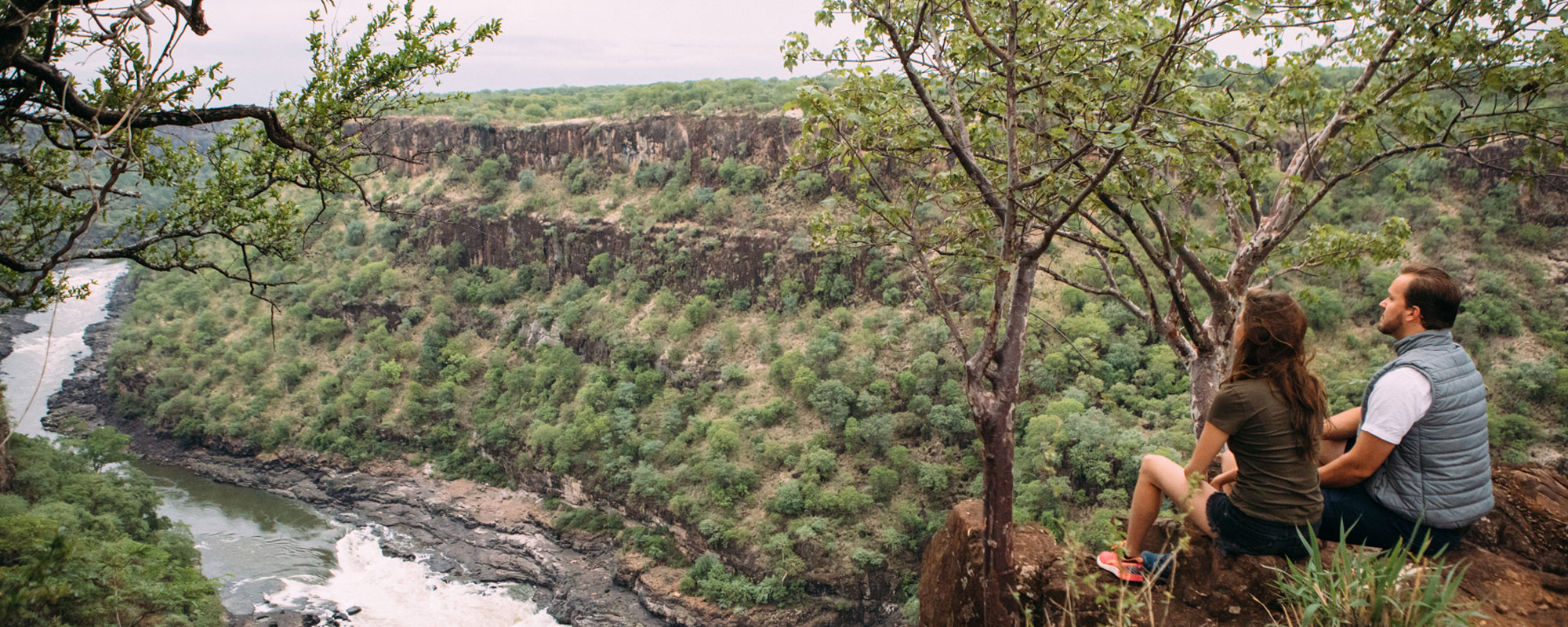 What To See & Do At The Wallow Lodge
No two days are the same at The Wallow Lodge and our team will go above and beyond to ensure that guests experience the best Victoria Falls has to offer, as well as a few hidden gems other travellers don't know about.
Guided Tour of the Victoria Falls Rainforest (Zimbabwe)
The Victoria Falls waterfall, also known as Mosi-oa-Tunya (the Smoke that Thunders), is one of the Seven Natural Wonders of the World and a UNESCO World Heritage site.
On your guided walking tour of the falls, you will have the opportunity to discover the many facets of the magnificent Victoria Falls. Explore the rainforest while learning about the history of the Falls, its geological significance and its flora and fauna.
You'll have the opportunity to soak up the beautiful vistas, lush surroundings, magical waterfalls, and the spray of the Falls.
Visiting the Victoria Falls Wildlife Trust
The Wallow Lodge is surrounded by natural beauty, and we focus on creating a space where guests can form a relationship with and learn about the environment they are in. We do this through our partnership with The Victoria Falls Wildlife Trust, located in the Wild Horizons Wildlife Sanctuary adjacent to the lodge. The Victoria Falls Wildlife Trust is a non-profit entity and dedicated vehicle for promoting conservation awareness, education, and community empowerment.
A tour of the Trust is part of our guest experience. Guests will visit the High-Care Wildlife Rescue and Rehabilitation Centre and Laboratory facilities to learn about innovative conservation initiatives from a team of passionate research and wildlife experts.
This activity is included in our rates but must be scheduled with management on arrival and is subject to availability.
Game Drives on the Wild Horizons Wildlife Sanctuary (AM & PM)
Game drives are a quintessential safari experience, and with over 4500 acres of traversing wilderness, no two game drives are ever the same. The Wallow Lodge is nestled within the expansive Wild Horizons Wildlife Sanctuary, so guests can exclusively explore the pristine wilderness during a morning or evening game drive.
Professional, passionate and knowledgeable safari guides lead the game drives. The freedom of structure creates a continuous adventure, and the journey follows the calls and contours of the landscape.
Excluded Nearby Activities